Wearing off symptoms occur when the effects of your Parkinson's medication gradually fade before the time of your next dose. This often occurs with a medication commonly used in the treatment of Parkinson's Disease, known as Levodopa. Wearing off symptoms can start to occur over a period of time as you continue to take the medication. These symptoms can manifest as the return of your Parkinson's movement difficulties, feelings of anxiety due to the unpredictability of your medication, in addition to restlessness, tiredness, or mood changes. This presentation will explain how Levodopa works to treat Parkinson's Disease, discuss the concepts of "ON" and "OFF"  times with the medication and explore strategies for managing wearing-off symptoms. You will find out about tips you can use at home to monitor and manage "OFF" times and how your doctor or pharmacist might go about dealing with these concerns. 
Presenter Information 
Geriatric Pharmacy Club
The Geriatric Pharmacy Club is based out of the University of Waterloo and is made up of a group of pharmacy students that are passionate about providing pharmaceutical care for older adults. In the past, the club has organized educational events and panels with experts in geriatric care in addition to holding fundraisers for organizations that support the care of older adults. Team members currently include Leona Spasik, Bhawani Jain, Jocelyn Bonti-Ankomah, SooMin Park, and Anna Lee. 
Guest Speakers
Leona Spasik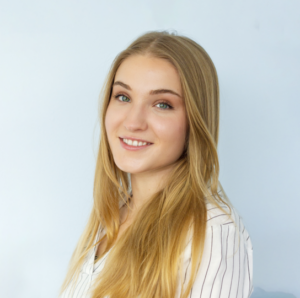 Leona is a fourth-year pharmacy student at the University of Waterloo School of Pharmacy and the current president of the Geriatric Pharmacy Club. She is passionate about providing care to older adults and began to volunteer with the Parkinson Society of Southwestern Ontario this year. She has volunteered at the Walk for Parkinson's, helped host the Fall Regional Conference in Kitchener, and written an article for the PSSO newsletter. Leona is interested in advancing pharmaceutical care for older adults through proactive medication management. She believes that it is important for those living with chronic diseases such as Parkinson's to be empowered to take on an active role in their care. She has completed co-op placements at Grand River Hospital, Mount Sinai Hospital, and Gerimedrisk. Leona will be starting an ambulatory pharmacy residency at Sunnybrook Health Sciences Centre in Toronto when she graduates later this year. 
Bhawani Jain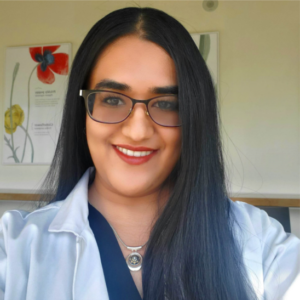 Bhawani is a third-year pharmacy student at the University of Waterloo. She completed a Bachelor of Medical Sciences degree from Western University, specializing in biochemistry. Bhawani is currently the Finance Officer for the Geriatric Pharmacy Club and will be transitioning to Co-President in March. Bhawani is also currently the Senior Finance Director for the pharmacy student council at the University of Waterloo. Previously, Bhawani completed co-op placements with the Canadian Society of Hospital Pharmacists and at Sunnybrook Health Sciences Center. Bhawani is passionate about geriatric care because she believes that it is important for all pharmacists to contribute to the development of best practices in geriatric care due to Canada's aging population. Doing so will help geriatric patients optimize their medication regimens, prevent adverse events, improve patient outcomes, and increase quality of life.