Volunteer Profile: Rachel Lee and Casey Salema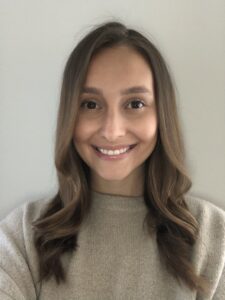 In May 2021 we began our second placement opportunity through Western University's Master of Science in Occupational Therapy program, working within a day program called "Enhancing Participation: A Parkinson's Program" offered out of Elborn College. This program ran for eight weeks where students from Western's rehabilitation sciences graduate programs, including occupational therapy, physical therapy, speech language pathology and audiology, provided virtual care to clients in Southwestern Ontario. As occupational therapy students, our role involved working one-on-one with clients and their carepartners to collaboratively identify any barriers that may be impacting their quality of life due to Parkinson's-related symptoms, and finding creative ways to best support and optimize their continued engagement in their chosen meaningful activities of daily living. Through this program, we had the privilege of creating personalized treatment sessions that focused on topics including education on falls, risk and management strategies, home safety assessments and modifications, energy conservation strategies, and the role and use of assistive technology.
This opportunity not only afforded us an enriching learning opportunity, but it also gave us a glimpse into the Parkinson's community that exists in Southwestern Ontario. Despite providing care through a virtual platform, our clients and their carepartners embraced us as student occupational therapists, and welcomed us to explore their journey with Parkinson's disease and collaborated to identify ways to support and enhance their quality of life. Through this experience, we learned about what encompasses a Parkinson's diagnosis, and more importantly who our clients were and how occupational therapy as a profession could support their needs and goals. We learned about their families, jobs and hobbies, along with how their diagnosis was affecting their daily living. This placement experience and most importantly, our clients, have helped us realize that while it is imperative to continue to learn about the symptoms, management and treatment of Parkinson's disease, the most important part is to learn about the person who is living with the diagnosis.
Above all, we gained insight into the positivity and perseverance of this community. Through each identified barrier or challenge, our clients demonstrated determination and dedication to continue to participate in the activities that meant the most to them. Their continued willingness to share and collaborate, coupled with their eagerness and enthusiasm to learn and participate in therapy, made each interaction incredibly valuable and meaningful for us as student occupational therapists.
The confidence and trust displayed by our clients and those within the Parkinson's community will continue to resonate with us as we continue through our journey to become licensed occupational therapists.
On September 11, 2021, we had the opportunity to volunteer with Parkinson Society Southwestern Ontario (PSSO), as we took part in supporting the annual Walk for Parkinson's hosted at Springbank Gardens. It was through this experience that our eyes were opened to the strong and caring Parkinson's community here in London. It was inspiring to see individuals with Parkinson's disease come together to support one another, raise awareness and advocate on behalf of themselves and their family members and friends.
We are extremely appreciative to have experienced both providing direct occupational therapy education and care to clients and their carepartners, as well as getting the opportunity to interact with individuals living with Parkinson's disease during Walk for Parkinson's. This volunteer experience provided us the opportunity to reflect on specific intervention strategies that we had provided to our clients via a virtual platform and recognize areas for future growth in providing client-centered care to individuals with Parkinson's disease. It is our hope to continue engagement with the Parkinson's community through future events and in occupational therapy practice.
Student Occupational Therapists, Elborn College, "Enhancing Participation: A Parkinson's Program". Rachel Lee (Left) and Casey Salema